Allround Brush SOFT Flitter Gold
Diamond Daily Care
€37,90 – €60,49
Includes 19% VAT
Delivery Time: approx.1-4 working days
Deliveries to non-EU countries may be subject to additional duties, taxes and fees.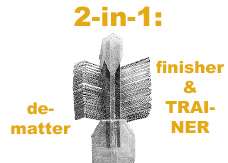 Dogs from 2 – 20 kg. For silky and sensitive coats, for most breeds in show condition. The right brush for toy breeds and puppies; delicate and gentle when detangling critical areas.
The variant in 4.5 cm is suitable for small to medium dog breeds and cats. For larger breeds, the 9 cm MEGA BRUSH variation of the ActiVet brush is recommended to speed up coat care.
– Tried and tested thousands of times –
manufactured in Germany since 1998